Pitching your web design/development services - "How To" guide, customizable email templates & pitch tracker spreadsheet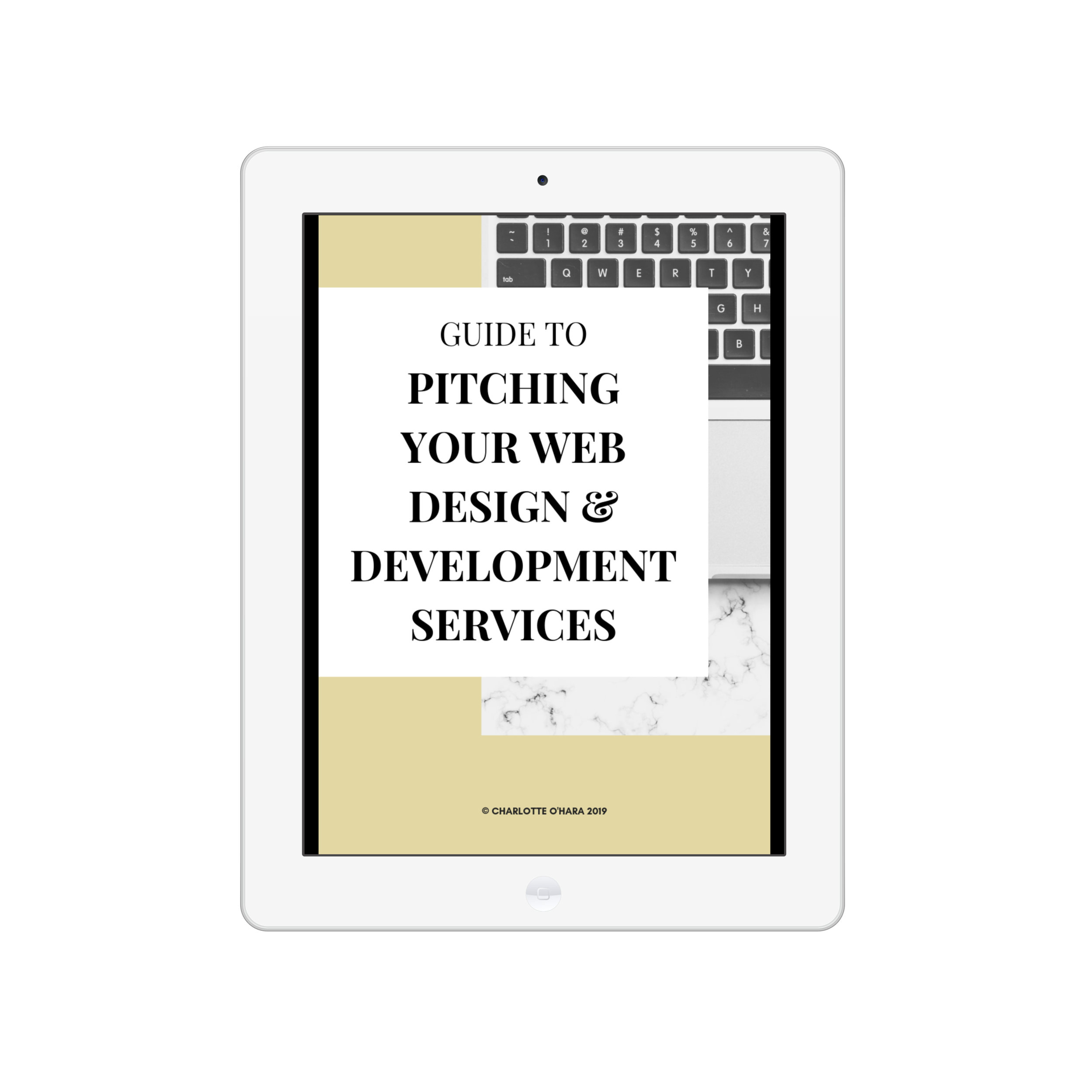 Pitching your web design/development services - "How To" guide, customizable email templates & pitch tracker spreadsheet
The Pitching Your Web Design/Development Services Guide is a digital product that includes 3 resources:
22-page How-To guide

Customizable pitch email templates

Tracker spreadsheets to organize your pitch process.
Whether you're looking to build a brand new web design/development from the ground up, or you're looking to grow your existing business, these pitch resources will get you there.
Guide to Pitching your web design & development services - $97
Ready to grow your business by pitching your services but don't know how to start? I've got you covered.
Get the how-to guide, customizable email templates and tracker spreadsheet now for only $97.
In my humble opinion, pitching is the BEST way to launch and grow your web design/development business.
Why pitching worked so well for me
When I started my web design/development business, I was bursting with excitement and fresh ideas, and I was keen to work on client projects right away. I couldn't wait to develop my skills, improve my process and make an impact on my client's businesses.
But there was one big problem: I didn't have any clients yet. I had a beautiful new website, was blogging every week, and posting on social media. But I still had no clients!
I didn't want to sit around, waiting and hoping that clients would somehow find me online and book out my services on their own. I knew that building up an online audience and waitlist of potential clients through traditional marketing methods would take a longggg time and frankly, I didn't have that kind of patience.
So I decided to take inspired action - I pitched my little heart out. And do you know what? It totally paid off. I grew my web design/development business entirely through pitching.
During my first few weeks of business, I pitched non-stop, every day. I wasn't the best or more experienced designer out there but I was definitely the most resilient and driven little pitcher. I ended up securing 3 custom Squarespace website projects valued at over $5000. Heck yeah!
Since then, I've raised my rates considerably and rarely need to pitch my services anymore because I'm usually booked out in advance - dream clients come directly to me now.
Looking back, pitching is what allowed me to grow my business and become a leader in my field so quickly.
Here are just a few benefits and positive outcomes from pitching for web designers/developers:
grow or up-level your business - fast

work exclusively with ideal clients

build a stronger, more cohesive portfolio

actively target your desired niche/industry

be known as the go-to web designer/developer in your niche, both by potential clients and your peers

book out your calendar on your own terms

and much more!
There are many wonderful ways to market your business and attract new clients - blogging, online marketing, social media, and even paid advertising all come to mind. But pitching your services directly is arguably the fastest and most effective way to get in front of potential clients and secure new business.
Pitches require personalized outreach and research beforehand in order to understand what the person/brand/business does, what they care about or are interested in, and how you can help them through your services/offerings.
Pitching plays on the idea of reciprocity - "Let me help you".
When a pitch is successful, everyone wins.
Stand out from your competition
Most web designers/developers don't actively pitch their services and those who do send out basically the same ineffective emails. This is your opportunity to stand out and differentiate yourself from your peers and competitors.
Pitching isn't something we learn how to do in school. It's basically sales and marketing, new business development. I see so many talented web designers/developers who never build the business of their dreams, and the biggest reason for this is that they don't know how to sell themselves and their services. They have the skills, but they aren't reaching potential clients and selling their value. I don't want you to suffer those same bad results.
We're going to get strategic and work with my proven strategy and pitch process so that you can get the results you want. If you want to grow your web design/development business on your own terms, work with your dream clients, be the dominant designer in your niche, book more clients at your desired rate, and take matters into your own hands , you MUST pitch your services!
PITCHING FOR REAL RESULTS
Your pitches will be ignored, your emails will go unanswered, and you'll get a lot of No's or Not Now's or No Replies.
There's no way around it, that's just how it is when you pitch. Literally no one has a 100% success rate here.
Pitching is a numbers game, so you must always keep that in mind. You need to pitch a certain amount in order to book those discovery calls which in turn become secured, paying client projects.
But it's not all doom and gloom - remember that pitching improves your odds and helps you secure new business faster, even if you have to get over your fear of rejection or perceived failure.
I pitched successfully. It will work for you, too.
You could try to hack together pitch emails on your own.
Or you could purchase my proven pitch strategy and process, use the exact email templates that worked for me, and learn all my secrets and recommendations for best results.
I've done the trial and error, made the mistakes, and messed up more times than I can count. But I've come a long way since then and have refined the process to something that I know works.
I want you to pitch your services the right way, from the very first attempt. This how-to-pitch guide, email templates and pitch tracker spreadsheet will save you time and give you peace of mind that you're pitching correctly and effectively, using a proven strategy.
When you invest in yourself and your business by purchasing this how-to guide, email templates and tracker spreadsheet, you'll learn how to pitch your services effectively, quickly, and with higher conversion rates than traditional marketing methods. I can't guarantee that you'll have the same results that I did because success depends a lot on the action and effort you put in, but I am certain that you will have better results than if you didn't try at all. It's an investment to purchase this product but if it helps you book out even one extra web design/development project, it will have paid for itself many times over.
Pitching isn't rocket science. I'm sharing what worked for me, and what will work for you too. It's a replicable strategy and process that you can implement in your own business - starting today.
MARIANA BOOKED $6,700 WORTH OF HER SERVICES IN JUST 4 DAYS AFTER PURCHASING THE PITCH YOU WEB DESIGN & DEVELOPMENT SERVICES GUIDE
Mariana Durst runs the DESK & DESIGN studio. She predominantly works with creatives and offers Squarespace design, branding strategy and conversion copywriting services.
Mariana purchased my Pitching your Web Design & Development Services Guide and WOW, her results have already blown me away!
Here's what Mariana's process looked like:
She bought the Pitching your Web Design & Development Services Guide

She researched and identified her ideal clients in her target industry/niche

She sent out her pitches

SHE BOOKED THOUSANDS OF DOLLARS OF NEW BUSINESS WITHIN DAYS!
Mariana invested in herself, learned a new marketing strategy, and grew her business.
2 days after that email, Mariana booked another client from her pitches!
1 - CHECK YOUR INBOX
Open your email to download the digital products and access the files.
2 - CUSTOMIZE YOUR PITCH EMAILS
Using the template emails as a guide, customize your pitch emails to suit your exact needs.
3 - START PITCHING!
Time to send out your pitches! Are you ready to grow your business and book dream client projects?
THIS DIGITAL PRODUCT INCLUDES:
22-page guide to pitching your web design & development services

Customizable 3-step email pitch templates

Pitch process tracker spreadsheets
1 . 22 page How-To Guide:
This guide covers everything you need to know about pitching your web design/development services from start to finish. It's my exact, proven strategy and you can follow my best practices every step of the way.
You will learn how to:
identify your target industry/niche

research potential clients

automatically schedule discovery calls and ultimately book out your services

follow my pitch strategy using my 3 customizable email templates

track your pitch progress at each stage

learn how to follow up effectively

email vs phone pitches

what to put in the pitch email subject line

and much more!
From formatting your pitch emails correctly to booking out discovery calls automatically, everything you need to know about pitching is covered in this guide on pitching your web design/development services.
2. Customizable 3-step email pitch templates:
Use my proven email templates to send out pitches to your dream clients. There are 3 emails to send out during your pitch process and you can customize each email template to suit your needs. These are the exact emails I've used in the past that have secured me new business.
3. Pitch Process Tracker Spreadsheets:
Track your progress at every stage of the pitch. Whether you're identifying potential clients to pitch to or following up to a "not now" response, this spreadsheet template will keep you organized without missing a step. There are 4 tabs in this spreadsheet to make sure that you don't slip up on your pitch strategy because of an administrative misstep.
Who is this for?
This digital products was specifically created for web designers & developers. That being said, it has been successfully used by graphic designers, UX designers, social media managers, copywriters and even photographers - you will need to tweak the wording/script template a little bit to suit the service you offer but the basic premise remains the same!
Additional information
This digital product is delivered in a .ZIP file for you to download. The How-To Guide and Email Templates are delivered as PDFs. The Tracker Spreadsheets are delivered in .XLSX format (compatible with Macs and PC), can be opened with Excel, Google Sheets, Apple Numbers, etc.
Due to the instant nature of this digital product, refunds will not be issued. If you have any questions prior to making a purchase, please contact Charlotte directly to make sure this product is right for you!