Getting Started Guide for Clients
Getting Started Guide for Clients
The Getting Started Guide for Clients is a digital product that includes 2 resources:
13-page customizable document template

Video tutorial on how to edit the Guide
This Getting Started Guide for Clients is for web designers/developers who want a done-for-you template to send to new clients during their custom website project on-boarding process.
Whether you're looking to build a brand new web design/development from the ground up, or you're looking to grow your existing business, these pitch resources will get you there.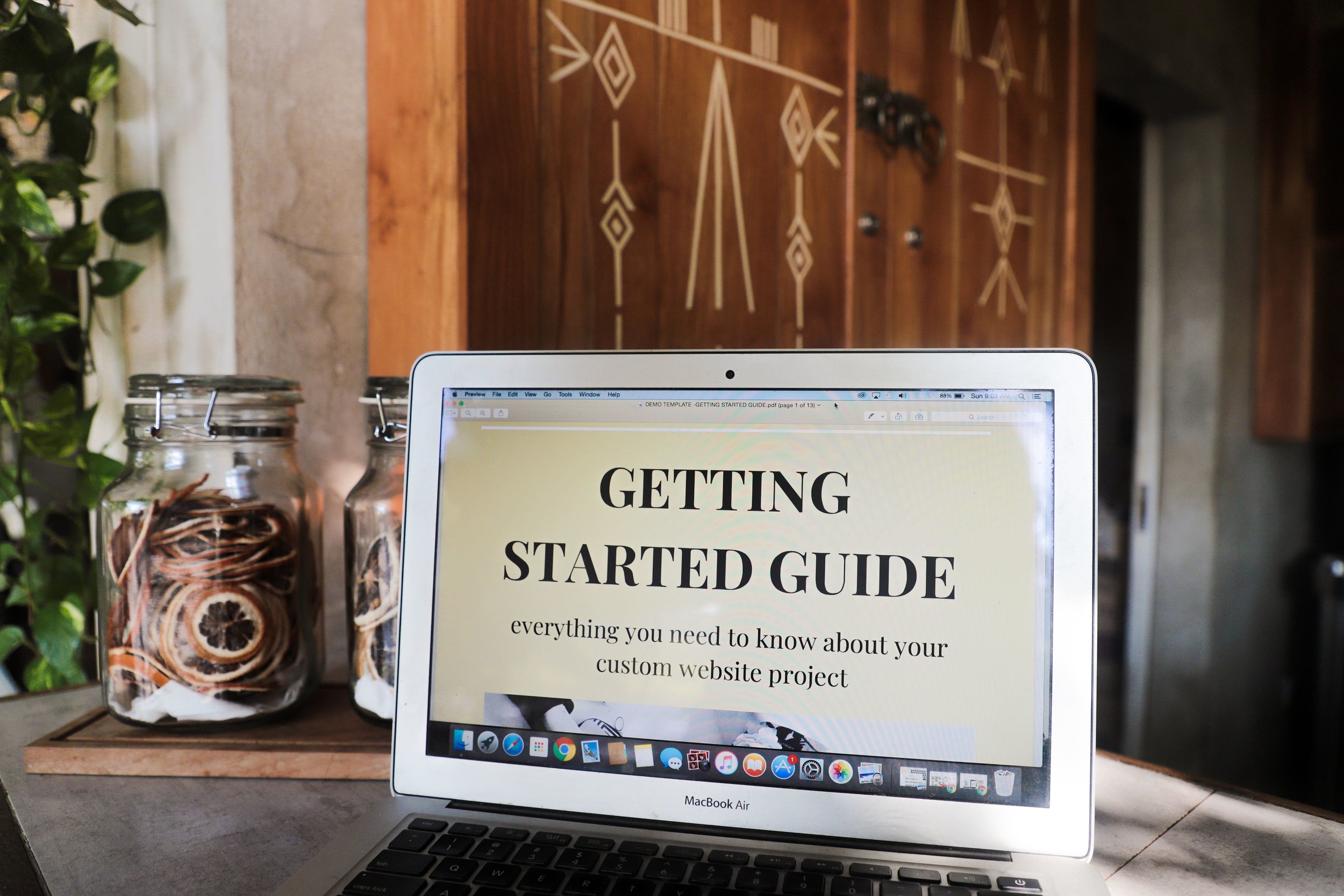 13 page customizable guide for web designers/developers to send to all their new clients during the on-boarding process.
Get the Getting Started Guide & video tutorial now for only $47.
Every new client project should start off with a bang … but does your process leave people saying "wow!" or "welp"?
It's not rocket science. Every web designer/developer can kick off their new projects with a bang - so long as they have the right resources and systems in place!
But the problem is that not everyone is set up for the best results and they can end up with rocky relationship with their new clients.
On the technical front, most web designers/developers have it on lockdown. They have extraordinary skills and can whip up a gorgeous website in no time at all.
But when it comes to organization and creating an unforgettable client experience, they need all the help they can get!
I say this from personal experience because I was once in their shoes. I was hacking together documents and files as I needed them, with zero continuity.
It wasn't long before I decided that enough was enough, I was going to get my sh*t together and become the best dang web designer/developer that I could be. And what better place to start than the beginning, from the early stages of the on-boarding process?
This is a lesson I had to learn the hard way but once I did, I was able to revamp my entire client on-boarding process and truly WOW my clients.
One of the biggest thing that set me apart from my peers is how much attention to detail I've incorporated into every stage of a custom website project. Not only do my clients have full confidence in my abilities and process, they also take a step back and let me fully lead the project without question.
How the Getting Started Guide Up-Leveled My Client Experience
Creating a customized Getting Started Guide for new clients was one of the best things I ever did to up-level my web design & development business. Honestly, I was thrilled to see how one simple document could have such a big impact, both for myself and for my clients!
When I started sending out these Getting Started Guides to new clients during the on-boarding process of custom website projects, I noticed an immediate change in the customer experience.
For one thing, the Getting Started Guide contained all the information clients needed to have on hand during the on-boarding process. It was something they could print out and have on hand, without having to log back into email or a project management tool. It was also beautifully designed which added credibility to my business and process.
I know they say you're not supposed to judge based on looks alone but having a Getting Started Guide that looked good and contained great information definitely gave me a leg up!
I had a master template of the Getting Started Guide that I could easily copy and customize to for each new project, based on the clients' needs or project requirements. So smart yet so simple, non?
Here are just a few benefits and positive outcomes from my Getting Started Guide:
Up-level your business

Cut down on client inquiries and repetitive requests

Create better systems, processes and overall organization

Clients have more confidence in you and your skills

Increased professionalism and better business positioning

Fully customizable template to suit each project's need

And much more!
There are many ways you can improve your business as a web designer/developer but creating a Getting Started Guide to send out to clients as you begin the new project on-boarding phase is DEFINITELY one of them! It's an additional resource that has major value and impact for both you AND your clients.
Stand out from your competition
Most web designers/developers don't include a Getting Started Guide as part of their client on-boarding process and those who do send out basically a single, scattered, obnoxiously dense & lengthy email. How's that supposed to make your clients trust their business and website with you?
This is your opportunity to stand out and differentiate yourself from your peers and competitors.
On-boarding new web design/development clients and improving the customer experience isn't something we learn how to do in school. It's basically up to YOU to create processes, systems, resources and other files that you can use time and time again for each new project. Many web designers/developers have the tech skills on lockdown but they are completely missing out on organization and the steps it takes to create a streamlined project from start to finish.
I see so many talented web designers/developers who stumble through each new project because they weren't organized and didn't communicate clearly. They have rocky relationships with their clients because there's often a lack of trust of confidence. I don't want you to suffer those same bad results.
We're going to get strategic and work with my proven strategy and client on-boarding process so that you can get the results you want. If you want to start your new custom web design/development projects off on the right foot, then you MUST start using a Getting Started Guide!
BETTER CLIENT EXPERIENCE = STRONGER, MORE PROFITABLE BUSINESS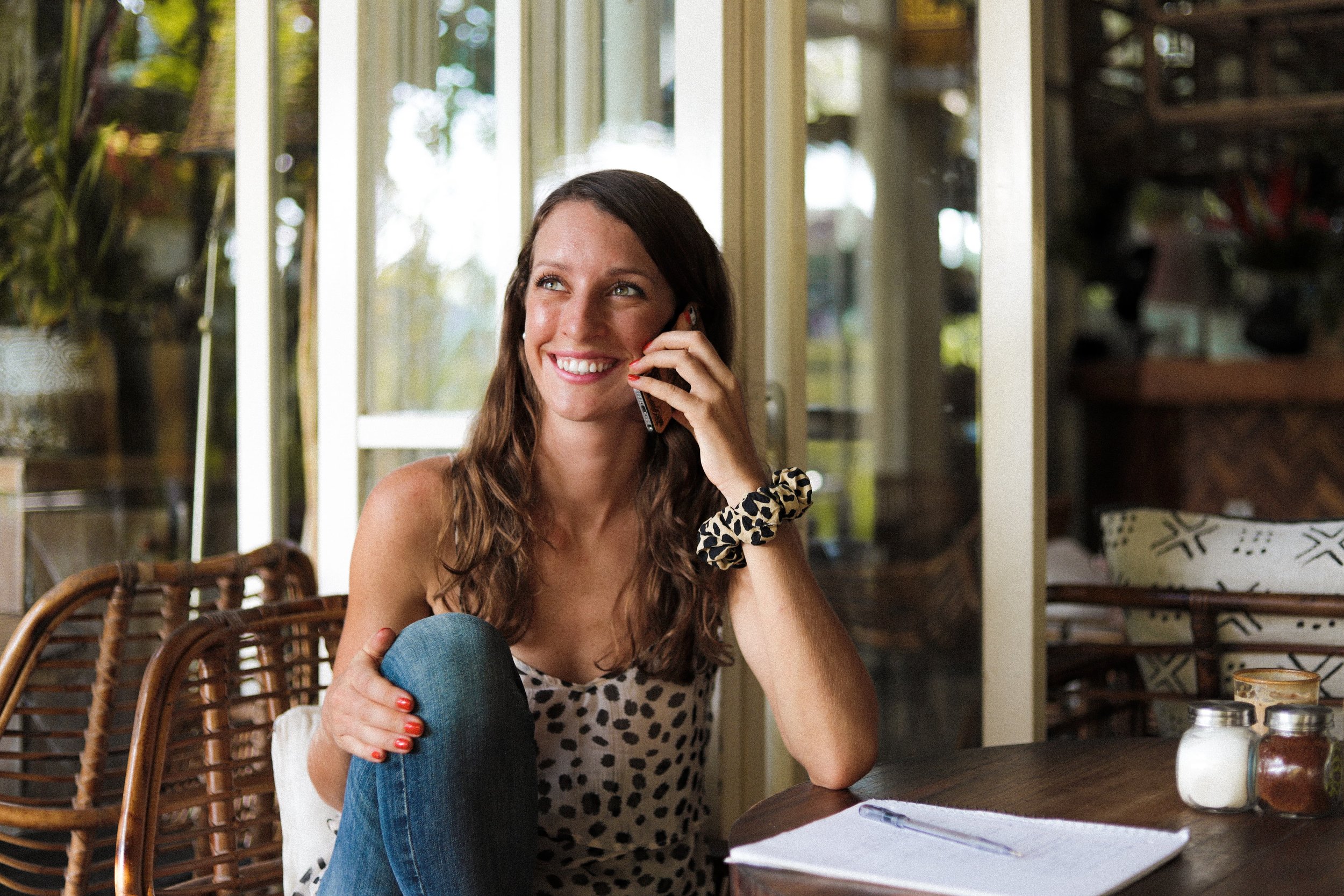 Your client on-boarding process might be a hot mess right now but there's NO reason why it has to remain that way!
If you want to up-level your business and blow your client's mind, the first thing to do is to start using a Getting Started Guide.
5-star reviews and raving clients don't happen by accident.
It's up to YOU to take charge and guide clients through the website project, from start to finish.
Little changes add up to big results.
Something as simple as incorporating a Getting Started Guide into your client on-boarding process can be the difference between a lukewarm and glowing client experience, which leads to a stronger and more profitable business.
This Getting Started Guide works for me. It will work for you too
You could try to hack together a brand new Getting Started Guide or document all on your own.
Or you could purchase my tried and true Getting Started Guide. It's the exact document template that works for me and I use in my business every time I take on a new custom website client. I'm literally sharing all my secrets, processes and recommendations - it's all laid out for you to use today.
I've done the trial and error, made the mistakes, and messed up more times than I can count. But I've come a long way since then and have organized and up-leveled my business. I've refined the client experience and on-boarding process to something that I know works, and this Getting Started Guide is a key player.
I want you to nail your next custom website project and blog your client's minds, from the very first step. This Getting Started Guide will save you time and give you peace of mind that you're doing it correctly and effectively, using a proven strategy.
When you invest in yourself and your business by purchasing this Getting Started Guide you'll learn how to incorporate a majorly important step in the way you deliver your web design & development services. Starting today, you can improve your client's experience, get organized, and put forth a professional and competent resource. It's an investment to purchase this product but if it helps you improve your client experience and streamline your process, it will lead to better and more profitable web design/development projects, and pay for itself many times over.
On-boarding your clients the right way isn't rocket science. I'm sharing what worked for me, and what will work for you too - this Getting Started Guide. It's a resource you can start using in your own business - starting today.
Who is this Getting Started Guide for?
This Getting Started Guide was specifically created for web designers/developers.
It has been purchased and successfully use by graphic designers, UX designers and copywriters as well, but please be aware that you will have to tweak the Guide's content & wording to suit your own needs and fit the service you offer.
When do you send the Getting Started Guide to clients?
Web designers/developers will send out the Getting Started Guide to new clients as part of the on-boarding process - AFTER you've signed the work agreement and accepted the deposit first payment for your project, but BEFORE you start building and working on the new website.
1. Check your inbox
Open your email to download the example copy of the Guide and access the link to the file template and video tutorial.
2. Customize the guide
Using the Canva template, customize your Guide to suit your exact needs.
3. Send it to clients!
Time to send out your personalized Guide! Are you ready to WOW your new clients?
This digital product includes:
A 13-page customizable Canva document template of the Getting Started Guide

Video tutorial on how to edit, customize and download the Guide
1. 13-page Getting Started Guide - Canva document template
This Guide covers everything your web design/development clients need to know about working with you on your custom website project. From start to finish, the Getting Started Guide outlines each step in the process.
It's the exact Getting Started Guide that I send to all of my clients whenever I take a on a new custom website project - a proven document that has helped countless people feel comfortable and confident in the process. You can follow my best practices every step of the way.
Whether you keep the document as is or customize the Canva template to suit your needs, I've got you covered!
This Guide covers:
Intro & welcome for the client

Website project objectives and a note to clients about how you work

Overview of the on-boarding process

Summary of various aspects of the website design & build stage

Tech access

Sitemap

Content

Color Palette & Font Pairing

Private Pinterest Board

Branding Package (optional)

Website Design & Build

Newsletter (optional)

E-commerce (optional)

SEO

Social Media Integrations

Launch

FAQs

What they'll get summary

Next steps outline
Send this Getting Started Guide to your new clients to kick off the on-boarding process for custom website projects and blow them away with your professionalism. Not only does this Guide outline everything they need to know about working with you, it also saves you time and energy from answering questions over and over again, and reduces the number of inquiries you'll receive about the process.
2. Video Tutorial - How to edit & customize the Guide's Canva document template
Watch Charlotte's for a full tutorial on how to edit this Guide and customize the template to suit your needs and branding.
You'll get a full walk-through of the Canva document template and will learn how to edit the colors, fonts, images, text, headers, etc. I'll also show you how to save the template document as a PDF which you can then send out to new clients as needed.
ADDITIONAL INFORMATION
Once you purchase this Getting Started Guide, you will receive a link to access the Canva document template. You will then make a copy of the Guide and customize it as you see fit, by following along the instructions in the video tutorial.
You will also receive an example PDF of the Getting Started Guide so that you can see what Charlotte's master copy looks like.
Due to the instant nature of this digital product, refunds will not be issued. If you have any questions prior to making a purchase, please contact Charlotte directly to make sure this product is right for you!